Developing Sustainable Website Strategies for Small Businesses and Individual Entrepreneurs
Welcome To Grassroots Consulting - Website Design and Development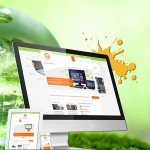 In the vast, interconnected world of the web, attracting, engaging and connecting visitors is crucial to creating a sustainable online presence.
At Grassroots Consulting, we believe that a memorable Brand is the main ingredient to achieve this sustainability.
Grassroots Consulting develops strategies which effectively use the power of the modern internet to enhance the business of our clients. We are a full service Brand Development Consulting and Website Development firm, dedicated to establishing and promoting a solid foundation online. Offering a variety of solutions, we use simple and effective methods to ensure your site is optimized for finding your products, services and information when needed.
With an emphasis on generating local traffic, we work hand and hand with our
Clients
throughout the creative process to ensure that their Brand is cultivated to express the essence of
who they are
.
Learn more about our philosophy and design process >>
Services We Offer
We operate as an extension of your business, offering a full range of complimentary elements to ensure your web marketing takes root and flourishes.
Brand Consultation
Web Design
Content Management Platforms
Social Networking
Local Search Engine Optimization
Hosting & Email
Ongoing Administration
See our Full Services >>
Notes From the Blog
October 25, 2014
Blog
0 Comments

The technology that we have access to in the Digital Era allows for fleeting impressions to often make up the public opinions of any...
From Our Clients
My wife and I have both gone to Grassroots to design our respective websites. As a result of their fine work, I've been able to showcase my portfolio as a writer, and she has doubled the number of clients using her services as a therapist. We would recommend Grassroots to anyone seeking an inexpensive, cost-effective, client-friendly web design service.
Phil Berrol
After 30 minutes of talking with my Grassroots Account manager, it was like a stalling engine had finally started in me. I was enlivened, pumping out the ideas I know I had in me but could not get out. Not only did I get my page looking right, but I got the inspiration and support to create new content and ideas for the site.
Madison Reyes