It can be said that the internet is a virtual representation of our Collective Consciousness.
Everything we humans have ever known or imagined can be found there.
So, in the midst of all that clutter, how do your customers find you? And how do you tap into them?
It's all about resonance.
On average, you have less than 3 seconds to capture the attention of a web visitor. In 3 seconds, do you think they have time to see your product offerings, read your bio or to delve into your latest blog post?
Of course not.
However, you can win the 3 second game when the first thing a site visitor experiences is a well crafted personal Theme.
Essential elements that make up your Theme include:
Logo
Imagery
Messaging
Calls to Action
Layout
Colors
Fonts
Working together, we will explore these elements in depth and put them together in a organic, holistic way so that you create the resonance needed to attract and engage your ideal client.
Re-brands and Upgrades – For updates to existing websites and marketing materials.

Organic Website Design – You provide the content and we'll put it all together in a holistic way.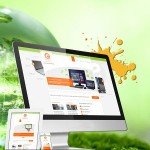 Still have doubts? That's natural. Take a closer look at our services.